Import financial data with Thrive in Life Kit CSV file format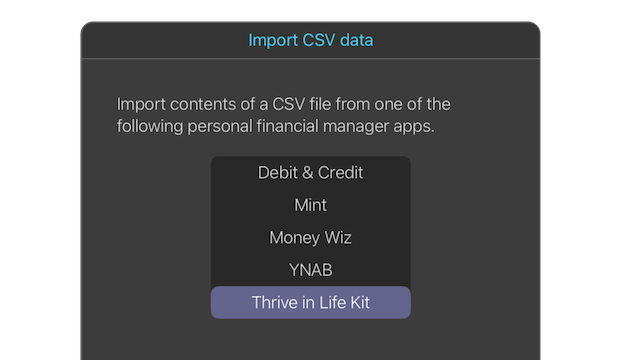 Overview
Thrive in Life Kit provides the functionality to import your financial data via a CSV file with the CSV file format used by Thrive in Life Kit app. It provides a generic CSV file format import that is quick and easy.
CSV file details
Institution name
Text field
Account name
Text field
Account type
Text field. Must be one of the following choices: ANY, CHECKING, CREDIT_CARD, LINE_OF_CREDIT, INVESTMENT, LOAN, MORTGAGE, SAVINGS.
Aggregated
Text field. Only transactions with "N" are imported. Auto fintech transactions, indicated with "Y", will be ignored during import since they are auto downloaded by the app with a subscription.
Amount
Text field. Format: decimal number, plus/minus, two decimal places, and no dollar sign.
Payee
Text field. Either payee or payer.
Date
Text field. Format: MM/DD/YYYY
Category
Text field.
Sub category
Text field.
Check number
Text field.
Memo
Text field.
Example CSV file
A brief example of a Thrive in Life Kit formatted CSV file can be downloaded as a PDF.
Import the CSV file into Thrive in Life Kit
Go to Thrive in Life Kit Settings (iOS) or File on main menu (Mac), select Import, select Thrive in Life Kit.

Locate and select the CSV file for importing.

Fill in the current balances for each imported account. Then, click 'Save' to complete the import.